Kids Health Blog
with Dr. Dina Kulik
Mom, Pediatrician,
Emergency Medicine Doctor,
Entrepreneur
Dr. Dina and her team of child health and parenting experts share their knowledge, tips, and tricks.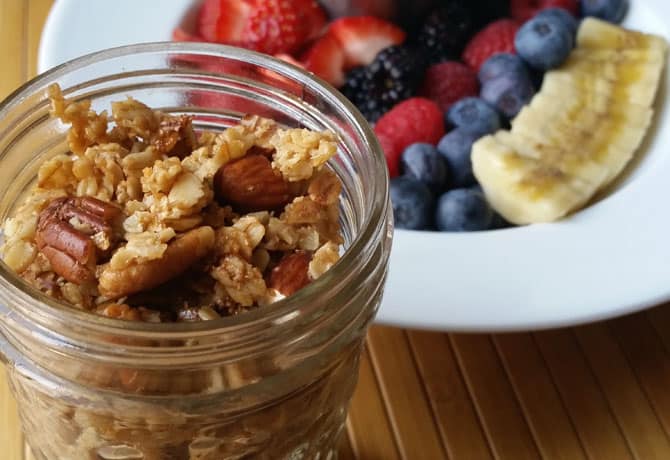 What To Make For Breakfast Tomorrow? Maple-Nut Granola Not sure what to make for breakfast this week?  Looking for breakfast menu ideas? Here is a simple and delicious recipe your kids, and you, will love!
What To Make For Breakfast Tomorrow? Maple-Nut Granola

Ingredients
1 + 3/4 cup QUICK OATS
1 + 1/2 cups ROLLED OATS
1/2 cup RAW PECANS
1/2 cup RAW ALMONDS, ROUGHLY CHOPPED
1/2 cup EXTRA VIRGIN OLIVE OIL
1/2 cup MAPLE SYRUP
1/2 tsp. SEA SALT
Instructions
Preheat oven to 375°F.
In a large bowl, combine all ingredients and mix well.
Spread mixture onto a baking sheet lined with parchment paper and bake for 20-25 minutes.
When top side is browned, remove tray and gently flip over granola with a spatula, a little at a time, trying not to break it up too much. Return tray to oven to brown other side (approximately 5 more minutes).
Remove from oven and let cool completely (as the granola cools, it will get harder and form clusters).
Break up the granola and store in a sealed container at room temperature.
© 2023 Copyright: DrDina.ca All rights reserved.
Vary the recipe! * You can use rolled...