Make Ahead Pumpkin Freezer Waffles
Make Ahead Pumpkin Freezer Waffles
For many of us getting our children (and ourselves) out the door in the morning can be stressful and feel rushed. It's important to have systems in place that work for your family to ensure each family member has everything they need for the day and that everyone arrives safely and on time.
Unfortunately, in the chaos of our morning routines, breakfast can often slip to the bottom of the priority list and we rely on the ease and convenience of prepackaged foods more often than not. Caught in this trap, our family grew tired of cereals that weren't filling enough for our growing boys. But there's no need to buy boxed frozen waffles at the store!
Taking a cue from our love of our weekend ritual of freshly made pancakes and waffles, I've taken my weekday breakfasts to a new level by batch cooking and freezing. The result is a warm, filling breakfast packed with protein and healthy goodness that everyone in our family loves.
No need to buy frozen waffles! You can make your own healthy pumpkin freezer waffles and enjoy them all year long!
Ingredients
1 cup of pureed pumpkin (you can easily roast your own or purchase already prepared canned pumpkin puree)
3 cups milk or milk substitute
3 eggs
2 tablespoons of oil (I like using melted coconut oil).
3 cups of prepared waffle mix of your choice (I used Bob's Red Mill Gluten Free Pancake Mix)
1 teaspoon cinnamon
¼ teaspoon cardamom
¼ teaspoon ground allspice
¼ teaspoon ground nutmeg
4 tablespoons protein powder (I used Omega Nutrition Pumpkin Seed Protein Powder)
¼ or ½ cup mini chocolate chips (optional and depending on your love of chocolate)
½ cup walnut pieces (optional)
Instructions
Preheat waffle maker on high setting.
Mix all wet ingredients together.
Mix all dry ingredients separately, omitting the chocolate chips and walnuts.
Combine wet and dry mixes and then gently fold in chocolate chips and walnuts (if using).
Coat waffle iron with oil of choice. I use a basting brush with melted coconut oil.
Ladle the batter into the bottom of your waffle maker, secure the lid and wait for indicator light to signal the waffle is ready.
Gently lift waffle onto a cooling rack and repeat process until your batter is gone.
Once the waffles have cooled, place in large freezer bags or container and store in freezer.
Pop the waffles into the toaster directly from freezer when you are ready to eat.
https://drdina.ca/make-ahead-pumpkin-freezer-waffles/
Copyright: DrDina.ca All rights reserved.
Quick Tips:
Don't skip the oil in the wet ingredient mix. The pumpkin puree will stick to your waffle maker even if the surface has been well greased.
Use mini chocolate chips to avoid creating a mess in your toaster.
Depending on the size of your waffle maker, this recipe yields 10 to 12 waffles.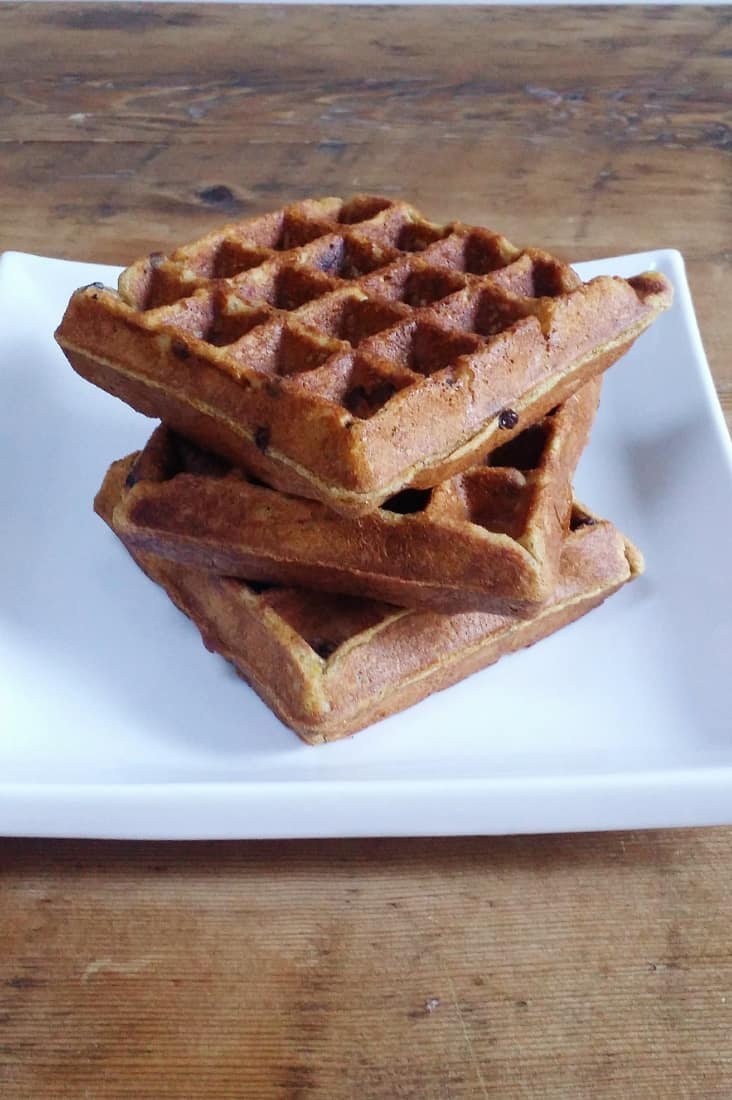 Do NOT use this Website for medical emergencies.
If you have a medical emergency, call a physician or qualified healthcare provider, or CALL 911 immediately. Under no circumstances should you attempt self-treatment based on anything you have seen or read on this Website. Always seek the advice of your physician or other licensed and qualified health provider in your jurisdiction concerning any questions you may have regarding any information obtained from this Website and any medical condition you believe may be relevant to you or to someone else. Never disregard professional medical advice or delay in seeking it because of something you have read on this Website.