I used these Bumkins Bibs for all my kids!
It sounds strange that I am excited by this baby bib, but I am. Once I found these bibs, I never bought another type. I used these for all four of my kids. There was no reason to look for another one; they are great.
This baby bib is easy to wipe and is stain and odor-resistant. They stand the test of time and heavy use. We still have these bibs from my first son, and three other kids used them!
They have an adjustable hook and loop closure, allowing you to get the best tug-proof fit for your little one. What sets these bibs apart from others I've tried is the coverage across the shoulders.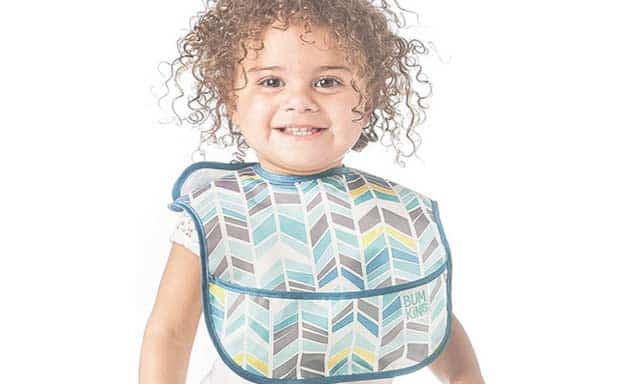 The bib is distinctively wide at the top, which protects the area where my kids loved to chew. Even when my toddlers tried to pull them off, they were never able to; they are super secure.
We love how they are machine washable, and then we just hang dry them. They are BPA, PVC, vinyl, phthalate, and lead-free.  They have one single layer, so you don't worry about icky stuff growing between layers of fabric. And because there is no cotton layer, stains and smells don't stick.
This bib has a 'waterproof coating' embedded into the 100% polyester. This keeps it lightweight and durable. They do get a bit wet, so I wouldn't call them 100% waterproof, but they dry within an hour. I prefer having them a bit softer and moist than totally waterproof and stiff like some other baby bibs we have tried.  
There is a great pocket in the front to catch spills and messes and decreased our need to do laundry when food was caught in the pocket instead of landing on my kids' pants.
We put them in the washing machine a few times a week, and they haven't fallen apart in years. Just don't put them in the dryer! You can also wash them in the sink between laundry loads, and they dry quickly.
FAQ 
What makes these bibs awesome?
These baby bibs provide excellent coverage and have a pocket in front to catch drips and food mess. They do not stain or hold odor once washed. They are machine washable and quick dry.
How do I clean this baby bib?
These can be machine washed and hung to dry. Do not place in the drier.
Are these bibs waterproof?
The company says they are waterproof, but in my experience, they do get wet. They are more comfortable than other waterproof, stiff, and uncomfortable bibs, in my opinion.