The best baby spoon we've used!
It is such a milestone when your baby starts to be able to self-feed. But as cute as it is, it is super messy too! I was so happy when I found these baby spoons. They are the best baby spoon we have used so far.
These baby utensils allow kids to learn how to self feed through the easy grip and bendable function. They are the best first utensils for a baby. Unlike other baby spoons, this training spoon is has a steel wire inside of the handle, so you can manipulate the way it bends. It is soft and easy to grip and can bend to various angles, making it ergonomic and super flexible. This baby spoon can bend 260 degrees to encourage your baby or toddler to eat independently.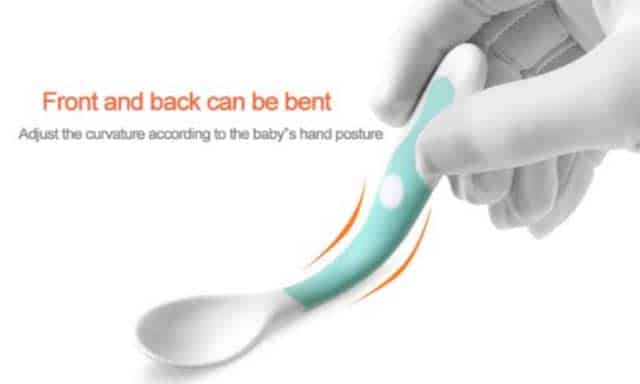 The spoon shape is round and soft and is gentle on the baby's sensitive gums. It is made of food-grade material and is safe for babies and toddlers. It is made of 100% food-grade silicone and is toxin, BPA, latex, and phthalate-free.
Before you use it for the first time, sterilize it by placing it in boiling water for 1-2 minutes; after this, you can sterilize again or just use soap and water when needed. They even come with a travel case, which is so convenient when you are out and about and don't want to get the spoon dirty or mess up your purse with lingering food.
These baby spoons have a very sturdy but soft grip for small hands. My sons took to them right away. They bend easily and keep their shape but also unbend just as quickly. The carrying case is quite practical when you are eating outside of the house. These are great for young babies just learning to eat solids and babies learning to hold a spoon.
The bending function makes it easy to keep your grip, and the food stays in place. It makes it easier for babies learning to feed for sure. My kids learned how to eat meals without dropping food all over the floor much earlier than I expected, and I think these utensils helped that.
I have heard of adults with disabilities using these as well. A patient told me she purchased these for her father, who had a severe stroke. He was a lefty, and they had a challenging time finding a bendable utensil that suited him as most are designed for right-handed persons. These were very easy for him to use, and she was happy they were easy to clean and travel with. She told me she highly recommends them for people with wrist mobility issues.
FAQ
What is the benefit of using a bendable spoon?
A feeding spoon that allows you to bend it offers the opportunity to create a more ergonomic position to encourage self-feeding.
How do you clean this spoon?
Before first use, sterilize in boiling water for 1-2 minutes. After this, you can sterilize again or wash with soap and water.
Can you travel with these spoons?
Absolutely. The spoons come with a plastic travel case, making feeding on the go or outside the home very easy.