I love these Teethers!
We have all experienced teething baby woes. I love these teethers because they are made of 100% food-grade silicone and are BPA, lead, petroleum, latex, and phthalates free.
When babies are teething, many will find relief from teething baby remedies like teethers. These have bumps and grooves to gently rub teething gums to soothe and relieve teething baby symptoms such as pain, drooling, and misery. The soft silicone material is gentle on babies' gums.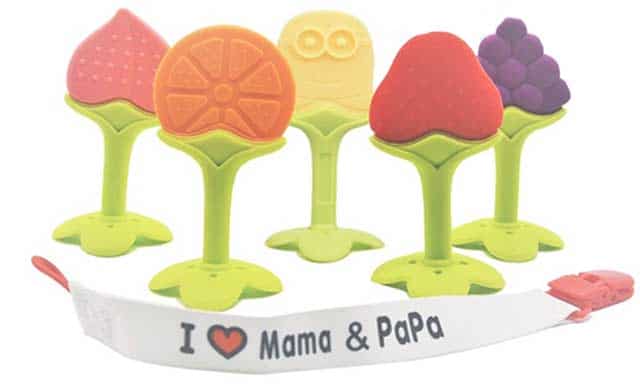 These teethers are light and small enough that the baby can hold them easily. They are designed to fit a baby's mouth comfortably without posing a choking risk. Your baby will practice child development milestones bypassing the teethers back and forth. They are straightforward to grip for babies with a pincer grasp or raking grasp.
They come with a free pacifier clip to avoid losing them or having them fall and needing to clean. It is made of plastic to prevent it scratching or rusting. The teether itself is made of 100% food-grade silicone, so it is non-toxic, tasteless, and safe for your baby. The material feels secure to avoid any risk of choking.
Before using it for the first time, boil the teether to sanitize it. After that, you can sterilize when you want or wash with soap and water. If your baby likes the feeling of cold on the gums, you can keep it in the fridge before use. My kids loved when their teethers were chilly on their sore gums. The "stem" doesn't get too cold, so their hands remain comfortable, unlike some other teethers.
FAQ 
What are the best features of these teethers?
Super easy for babies to grab and chew on
The different shapes and the base allows them to be stood up, and my little guys loved to chew on both ends depending on what tooth was bugging them or if they had teething molars.
Can put in the fridge to chill for babies who prefer cold relief from teethers.
What is the best way to clean these?
Before first use, sanitize with boiling water. You can sanitize later as needed or wash with soap and water.
Can I put these in the fridge or freezer?
Yes, these teethers are cold-temperature safe. If you put them in the freezer, allow them to warm for a few minutes before giving them to your baby to avoid cold injury to their sensitive gums.