Why use white noise or music to sleep?
In utero, a baby can hear mom's pulse as the blood rushes around the body. Depending on where babies are situated, they may hear other sounds like mom's stomach or gas. As baby's hearing develops, they also begin hearing the hustle and bustle of what's going on around them.
Many of these noises are near-constant, so the baby gets used to this noise and takes comfort in them. When the baby is born, suddenly, this constant stimulation and noise are minimized. We often go around shushing everyone to ensure silence. But babies are used to noise! All the time.
By using white noise, we are trying to soothe the baby by giving a familiar stimulus. This is one reason many babies are seemingly able to sleep through anything, especially at younger ages.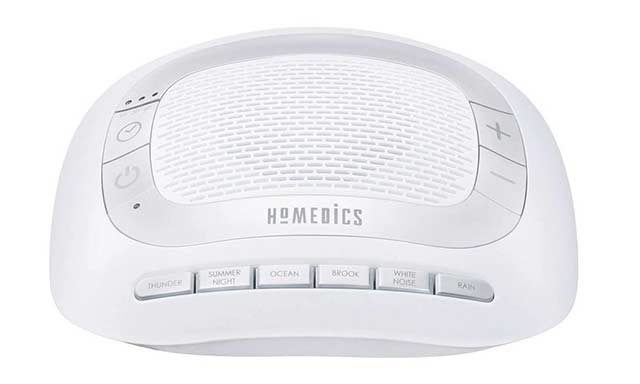 How to choose a noise machine for sleep
There are so many options for noise machines now. We have experimented with several different ones. We tried apps and have purchased a few commercial products. This one is my favorite and has worked well for each of my four kids, as each of my sons preferred a different sound. It is a trial and error, but you will quickly learn which sound works best for your child. One of my sons loves classic white noise. Another liked a rain sound. One like waves and another a 'babbling brook.'
Where to put your white noise machine for baby
I get asked this question often. Cords can get tangled and pose a suffocation and strangulation risk, so never put a sound machine directly in the crib with your child. Place the device at least 3 feet away from your baby, ideally 6 feet or farther. The noise machine's volume should be loud enough to fill the room but not so loud as to prevent your voice from being heard by someone else. I like to think of the volume of a shower from inside the bathroom or soft elevator music.
Once we figured out which noise worked for each child, we used it until they were more settled and able to self-soothe. It helped signal that it was time to sleep, as we would turn it on as part of our bedtime routine. It certainly helped out kids get sound sleep. Our sound machine has come in handy for reasons unrelated to sleep training. When our eldest was 3, he developed a fear of thunder. We used the sound machine in his room to distract him from the scary sound of the thunder. We use it when we travel. For many kids, sleeping in a strange room with different noises can be challenging; it is a great idea to use a familiar noise to add comfort.
When we sleep-trained our babies, we used the machine in the bigger kids' rooms to minimize the crying they heard from the baby's room.
This white noise sound machine has an adjustable volume setting to ensure your baby is sleeping with white noise at an appropriate level (less than 50 dB). My experience and research also verify that listening to white noise at bedtime can foster sound sleep and help you sleep train. This sound machine can be plugged into a wall outlet or used 4 'AA' batteries, making it so flexible. The battery backup automatically kicks in if the power goes out, which has helped ensure constant noise. It also has a timer option for auto shut-off, setting the timer for 15, 30, or 60 minutes. I prefer to use the machine all night to provide constant white noise throughout the sleep period.
This machine has lots of options for sounds – we prefer white noise, rain, or thunder. The volume has a great range from very low (less than a fan) to very loud (drowns out the noise from the highway). It is small enough to fit into any purse or travel bag, so you can mimic the typical sleep environment for your child wherever you are sleeping.
I'm impressed with the quality and durability of this little machine. It's been dropped, has traveled with us, and has stood the test of time with four kids.
FAQs
How do I know which sound my child will like best?
Trial and error. If one sound leads your baby to calm down, it is a good fir. If it makes your baby more agitated, move on to another sound.
How far should I keep the sound machine from my child's head?
Try to keep the sound machine 6 feet or farther from your baby.
How loud should the noise machine be?
Keep the volume below 50 dB. The noise should be loud enough to drown out other sounds but not so loud to be annoying. Think of the volume of a shower from inside a bathroom.