Well, hello friends!
Welcome back for another round of 'How are we doing?'
If you have received this email from a friend or loved one, why not just subscribe here? Also, please use the buttons at the bottom to help you post to social media.
As we do weekly, we will review the bad news, followed by the good news; I like to end on a high note! Then I will share my silver lining for the week. COVID has made our lives challenging and overwhelming this year, and we have a lot to be irritated by. But I like to turn my energy from negative to positive by looking at what I can learn from this terrible mess. It is self-preservation, I guess.
How is the rest of the world doing?
It is always shocking to write these numbers. But here we go. There have been over 102 MILLION cases of COVID-19 reported in the world. Over 2.2 million people have died.
The European Medicines Agency has approved the Astra Zeneca vaccine. Europe has to rapidly ramp up vaccination with so many countries hard hit by COVID. They now have the Pfizer, Moderna, and AstraZeneca vaccines to offer, amid massive shortages.
Portugal faces a vast health care strain, curving international travel and extending lockdowns into at least mid-February.
Dr. Anthony Fauci announced that he hopes American children will begin to receive the vaccine by early summer. So far, around 1.3% of Americans have received two doses of a currently available vaccine.
COVID cases continue to rise in Mexico, which now has the third-highest rate globally, surpassing India. Not a race anyone would want to win. Mexico has seen over 1.8 million cases and has lost more than 150,000 people to COVID-19.
The African Union has purchased 400 million doses of the AstraZeneca vaccine to vaccinate 60% of the entire continent within three years.
Dr. Dina, how are we doing in Canada?
As I spoke on Instagram this week and in my newsletter last week, the most extensive mass vaccination campaign in history is creating tension in nations worldwide as rich countries buy up vaccination doses while poorer countries are navigating the challenges of securing doses. Canada is 20th on the list of COVID vaccinations given. Disappointing at best. Especially since the United States, Britain and Israel have vaccinated a far higher percentage of their population. Vaccine shortages continue to threaten our ability to protect those at the highest risk. You may have heard that the number of fully vaccinated people is half that initially reported. The previously provided data was the number of doses given, not the number of fully vaccinated individuals (requiring two doses of the Moderna or Pfizer vaccines). The Ministry of Health said they "inadvertently provided data on the number of doses administered to achieve full vaccination." Oops. We need to get more people vaccinated!
In Canada, we have had over 770,000 cases, with around 20,000 deaths.
In Ontario, Premier Ford announced that international travelers arriving at Toronto Pearson International Airport will face mandatory COVID testing going forward. This comes at the heels of learning that the highly contagious UK strain could become the most prevalent strain in Ontario. There have been many cases of this strain (the B.1.1.7 strain) already reported in Ontario.
With the growing concern about this strain's contagiousness and other contagious strains, such as the variant which first showed up in South Africa, some health experts recommend wearing two masks or a well-fitting three-layer mask.
I was asked numerous questions about proper mask-wearing this week, so that I will answer your most common questions here:
Are all masks created equal?
Not all masks offer the same level of protection against COVID-19. Masks should be three-layer and should not have a valve. Valves allow unfiltered air to leave the mask, leaving those around you unprotected.
How do I decrease my risk of becoming infected when wearing a mask?
The first step is to not play with the mask. If you have to readjust your mask, ensure you clean or sanitize your hands first. If you touch your mask, wash your hands afterward as well, as the mask can be contaminated.
How do I make sure my mask fits well?
Your mask should be snug to your face but comfortable. Your mask should cover your nose and your mouth simultaneously and sit securely under your chin.
How many layers should my mask be?
In June 2020, the World Health Organization made recommendations to wear a 3-layer non-medical mask. The Public Health Agency of Canada also recommends a 3-layer non-medical mask, with a middle filter layer.
What does it mean to have three layers?
Most surgical masks are three layers thick. The outer layer is fluid-repellant. This layer is usually colored and repels fluid to reduce the likelihood of viruses and bacterial attachments to the mask. The middle layer is the workhorse and acts as a filter, capturing bacteria and viruses. The innermost layer is the absorbent layer. It absorbs moisture, decreasing the risk that mucus or bacteria leave the mask when the person wearing the mask coughs or talks.
What is the best way to clean my washable mask?
Wash your mask with other laundry using standard laundry detergent. Ideally, use warm or hot water, if the fabric allows. Dry the mask in the dryer, using the highest temperature possible for that fabric. Ensure your mask is completely dry before wearing it again.
How can I make my mask fit better if it is large?
If your mask is falling below your nose or gaping on the sides, you can make the ear loops shorter to allow it to fit more closely to your face. Tie a knot on each ear loop. Ensure the knot is behind (not in front) of your ear when you wear. Alternatively, twist the ear loop, so an 'X' is made in the loop, and loop around your ear. Ensure there is no gap between the top and bottom corners of the mask, as this gap will allow air (and potentially virus) to enter your mask and lead to infection.
Is there any good news?
I am pleased to announce that, yes! There is good news!
This week's Update on COVID-19 Projections have positive news. Cases and positive percentage cases are down, though fewer people are getting tested. We need to keep testing up to identify and isolate positive cases to minimize spread. There are fewer cases in long term care homes, though the mortality is still rising. Fewer people are being hospitalized in Ontario, and the strain on ICUs is slightly down.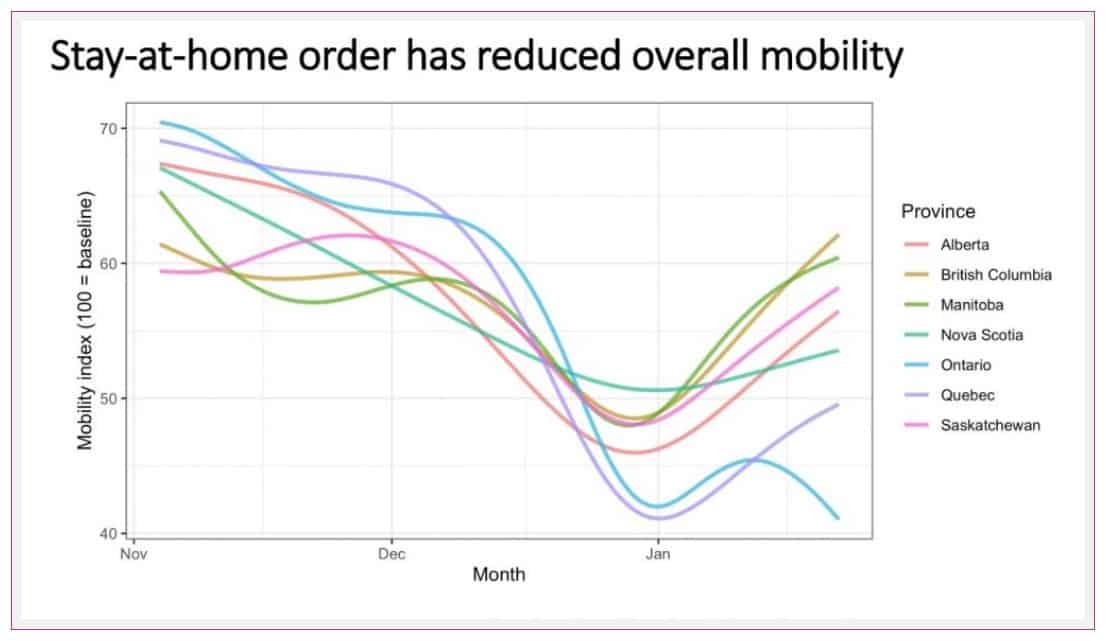 We have reviewed this a few times, but essential work, especially among racial and marginalized populations, is strongly associated with COVID infection risk. Keeping workplaces safe, ensuring workers have adequate PPE, maintaining appropriate distance, and guaranteeing paid sick leave, is paramount to control the illness in vulnerable communities and Canada.
The 'UK Variant,' otherwise called B.1.1.7, poses a threat to COVID control. This variant seems to be at least 70% more transmissible. There have been mixed reports about whether this strain poses a higher risk of severe illness or death. Current evidence from the UK says a "realistic possibility that infection with VOC B.1.1.7 is associated with an increased risk of death compared to infection with non-VOC viruses". However, public health models demonstrate that continuing to practice infection control as we do with masking, distance, hand hygiene, and staying home when sick can reduce the burden, EVEN IF KIDS GO BACK TO SCHOOL.
And how we want them back in school!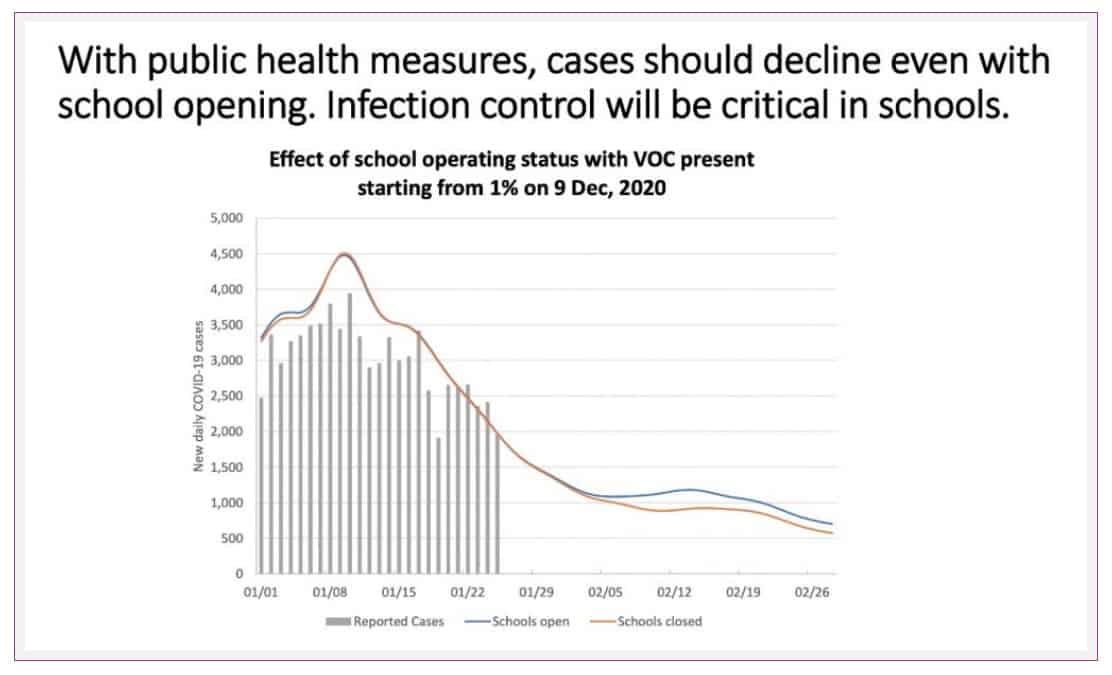 The current vaccines are 'likely still effective' against these new variants. And the makers of the mRNA vaccines by Moderna and Pfizer think that their technology will enable tweaks to be made to their vaccines should new strains of COVID evade protection from current vaccines.
What is the news for international travel?
The Prime Minister of Canada announced mandatory PCR testing on arrival from international travel and mandatory quarantine in hotels for three days while waiting for PCR results. Travelers will have to pay these expenses. If testing is positive, travelers will need to stay longer in quarantine. 'Sun destination' travel will be suspended. There will even be door-to-door contractors to ensure travelers are going home to quarantine.
For me: it's about time. When a million people traveled over the Holidays, I was floored. We need to control this pandemic. Now is not the time to go to the Caribbean. When people travel to the south, I remind you that vulnerable people work in the service and tourism industry. Service people in poorer countries are at a very high risk of becoming infected with COVID and taking the illness home to their families. In many cases, these individuals have to work to provide food and shelter for their families. To risk infecting these marginalized and impoverished people is something we should all want to avoid at all costs.
My silver lining for the week
A HUGE silver lining for me and medicine as a whole: Kids in the most remote communities can now access virtual care. Not to mention the many families who are unable to access their usual doctors at this time.
For the last year, and I hope for years to come, pediatricians and clinicians in Ontario can provide care to any kid in Ontario, who needs, no matter where they live, or how isolated and underserved, with only a phone or internet access.
This is amazing! And life-changing or so many young people who do not have easy access to care.
I am very grateful for that!
Here's more information on how Virtual Care works, our Virtual Care FAQs, and we even have a Virtual Care PDF Document you can download, that explains everything you wanted to know about Virtual Care.
I hope you and your family are healthy and safe.
Till next week friends!
#YOUGOTTHIS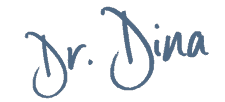 Dr. Dina Kulik