This is my 17th weekly COVID-19 update. Subscribe to Dr. Dina
Hello friends!
I hope you are having a great week so far, and many of you are enjoying having your kids back in school! Life feels a lot more normal when kids are in school.
I want to thank you for your ongoing support and kindness during this challenging time. I know so many families are struggling right now, with overwhelm and stress and financial and emotional burden. I do hope these newsletter updates help make sense of what is going on. I hope it saves you precious time trying to dig through the news so that you can focus on your loved ones and kiddos.
As we do each week, I will review the bad news, followed by the good news. I will answer the most common question I was asked this week and leave you with my silver lining for the week. I do love ending with some happy thoughts to cheer up your day. We can all use some cheering.
Dr. Dina, what is the bad news?
There have been over 110 MILLION cases of COVID-19 reported worldwide, with over 2.4 million deaths.
So far, Canada had reported over 840,000 cases of COVID-19. Over 21,000 people have died.
Last week we heard from Premier Ford that Toronto, North Bay-Parry Sound, and Peel would remain under the stay-at-home order until March 8 at the earliest. The numbers are still relatively high, with case rates of 67.9/100,000 in Toronto and 83.4/100,000 in Peel. This is well above the provincial average. The good news is that we have seen a reduction in COVID-19 transmission, which is believed to stem from public health recommendations and shutdowns. As many areas in Ontario begin to open up, it will be essential to ensure no caseload rise.
Health Minister Christine Elliott said, "Our government's number one priority is the safety of all individuals and families, and that's why we are taking a gradual, cautious approach to returning regions to the framework. These are difficult but necessary decisions to protect against COVID-19 variants and maintain the progress we have all made together. Until vaccines are widely available, we continue to urge all Ontarians to follow public health advice and measures, and stay home, stay safe and save lives."
While it is undoubtedly hard for so many business owners and employees to have these closures, it is important to remain cautious and conservative to ensure cases continue to decline. We will have the opportunity to see whether kids can stay in school during the lockdown. Our priority should be keeping kids in school. And if we can do this safely, we can best assess what changes lead to what result. If cases rise dramatically during the lockdown, but with schools open, this is important. If cases remain low, this is excellent news for our kids and us.
The Canadian vaccination program has not been progressing as quickly as many of us would like, and the United States faces a considerable delay this week as well. Road closures and power outages have impacted all 50 states.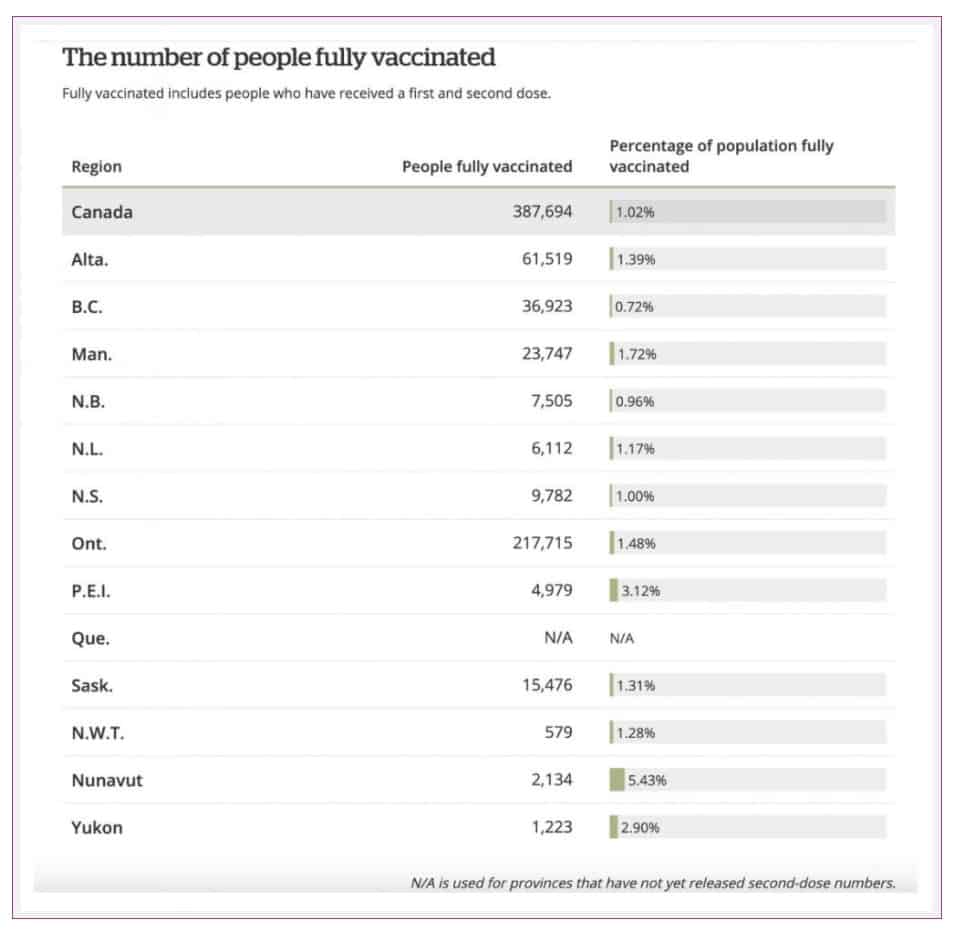 In Ontario, around 220,000 people have received both doses of a vaccine and are fully immunized. Adults aged 80 and older will be contacted in the next few weeks to receive their vaccines. As more vaccines arrive, Ontario is expanding the vaccine rollout to target these older adults, seniors living congregate care, and all Indigenous adults.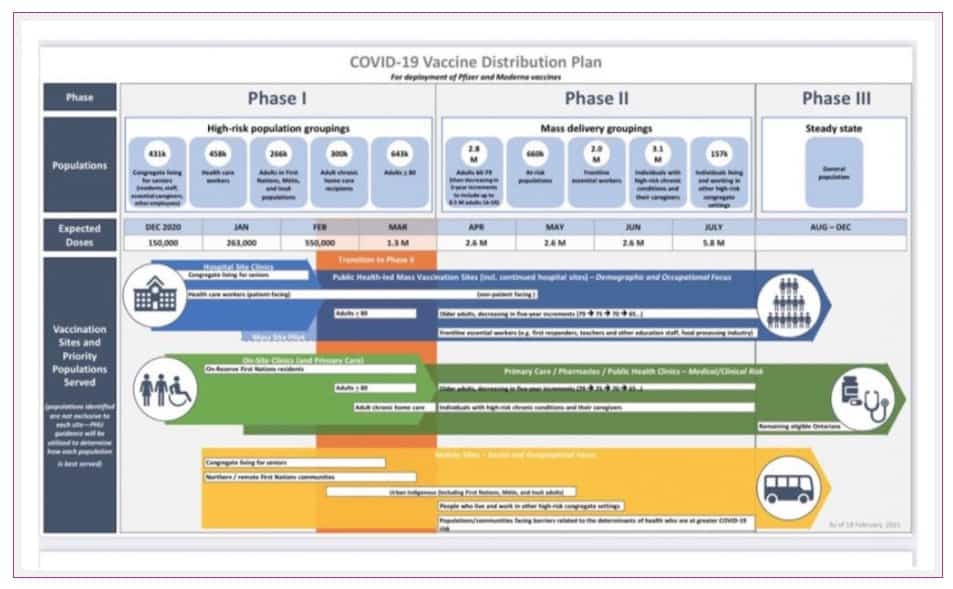 We remain concerned about the 'variants of concern' that have now been reported in 10 provinces. There have been around 700 cases of the 'UK' variance B117, over 40 of the 'South African' variant B1351, and one case of the 'Brazil' variant P1.
Variant strains can get out of control without vigilance and diligent public health measures. Germany has recorded almost 2.4 million cases and 67,206 deaths from COVID-19 since the start of the pandemic. B117 represents 22% of COVID-19 cases, an increase from 6% just two weeks ago. Japan has also confirmed a new variant of COVID-19, which they are concerned is more contagious and vaccines less effective against it.
We reviewed last week that these variants worry us as they are more easily transmissible, and vaccines may not prevent them. Luckily, mRNA technology used in the Moderna and Pfizer vaccines is relatively easy to modify as new strains emerge.
What is the good news?
The good news is that many of our kids are back in school! Yay!
And the test positivity rate last week was 2.1%, the lowest since October 2020. The number of people admitted to hospital has dropped, as has the number of people in ICUs.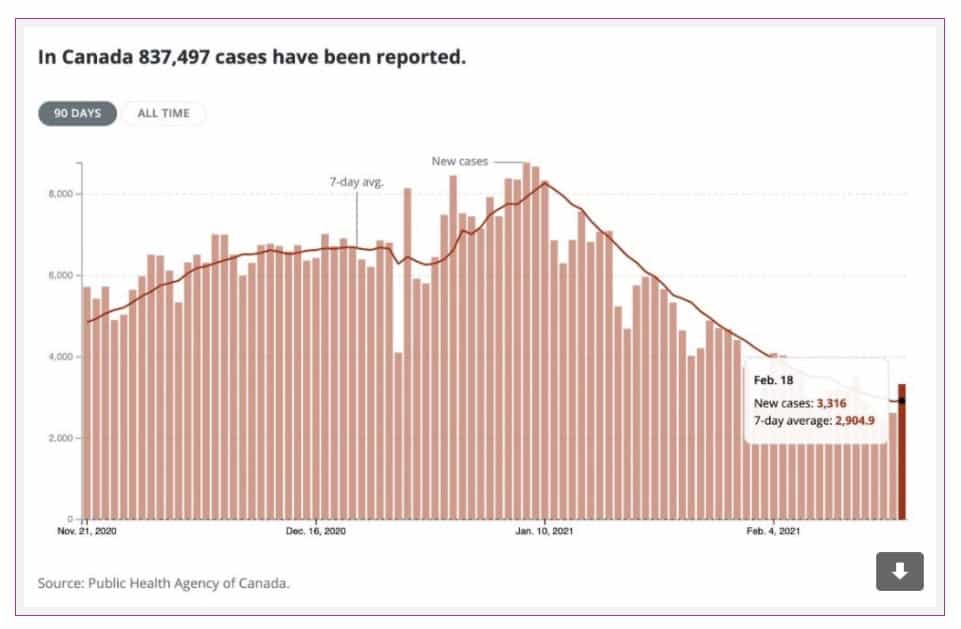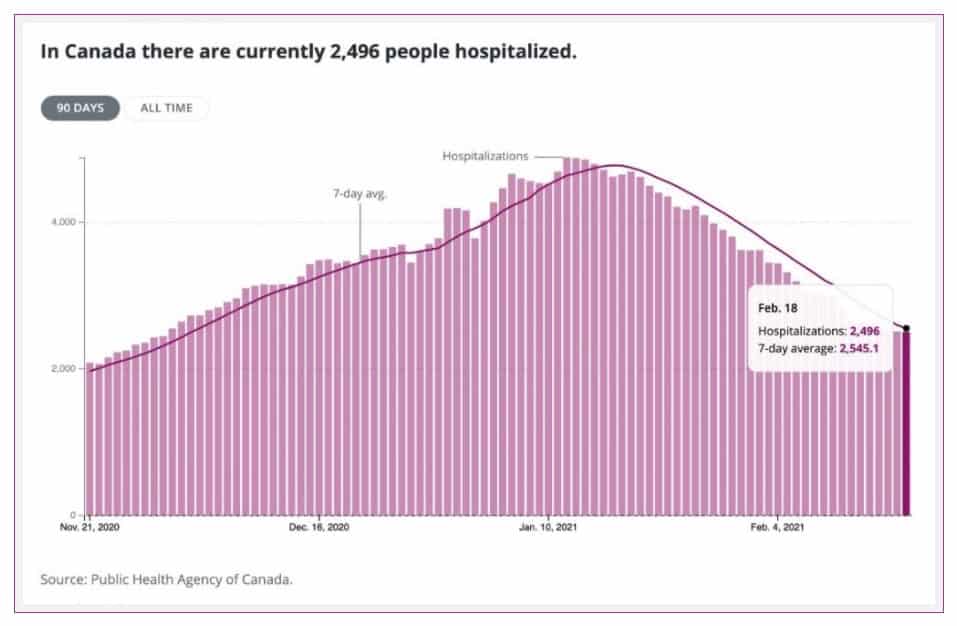 Resource: Public Health Canada
As the pandemic continues, and many people suffer financially, many will be thankful that the Canada recovery benefit (CRB), the Canada recovery sickness benefit (CRSB), the Canada recovery caregiving benefit (CRCB), and employment insurance (EI) will be extended for a few weeks for eligible recipients.
Overall, the news is much more positive than it has been lately, and while we are all concerned about the variants, it is clear that public health measures are working.
The most common question of the week
Each week I try to share my most commonly asked question by parents. This week I was asked often:
How do I know if my mask is protective?
We reviewed a few weeks ago the CDC's recommendation about double masking, especially in light of the VOC. Health Canada recommends mask be at least two layers of tightly-woven fabric like cotton, with a third layer of material like polypropylene which acts as a filter.
But even if you are wearing a three-layer mask or even a second mask on top of your first mask, you should also ensure the following:
• There should be no gap under your chin or around the nose piece where air could easily move back and forth (bringing COVID with it).
• There should be no big gap on the side of your face from the mask bunching between the ear loops/ties.
• The nose piece should be sitting flush to your nose
• The whole mask should sit tight to your face.
Essentially, you don't want lots of air leaking up the top, bottom, or sides. How do you tell if you have too much leaking? Pay attention to what happens when you breathe in and out with the mask on. The mask should suck towards your mouth and nose when you breathe in. It may seem too tight or restrictive, but this will show you that the air is flowing through the mask, and not around the mask.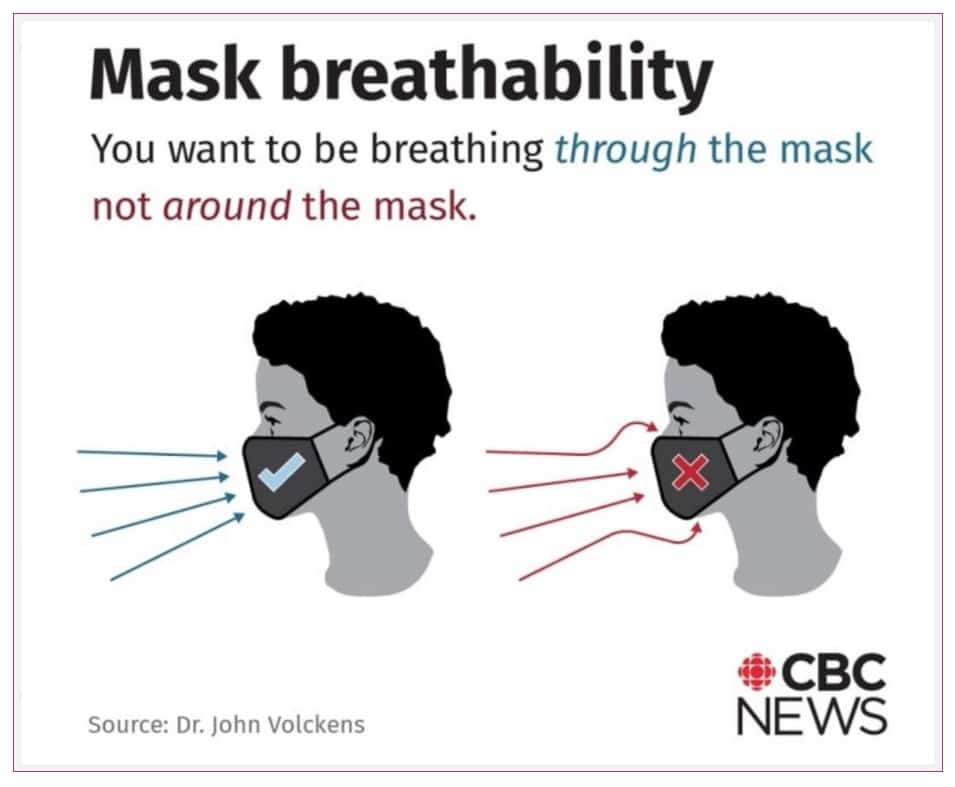 My silver lining of the week
Kids in Ontario are back to school, and most are thrilled. This is incredible.
If I were to ask 100 kids a year ago if they loved school, maybe 30 would have said yes.
Times have changed. These very kids told me they hated school last year and who would have wanted to spend all day at home, as now itching to go back.
Kids are bored at home. They want to see their friends and their teachers.
They want to learn again in the classroom. They are begging for it.
What a great lesson for them (and us to learn)!
Our kids love school. They love their teachers and their friends, and the classroom. Yay for that!
I hope you have a wonderful week and continued health and happiness.
Till next week friends,
#YOUGOTTHIS