Shhh! Don't tell anyone – this smoothie has broccoli AND it tastes good!
Seriously, your kids will love this brocoli smoothie!
Brocoli smoothie you say? .. Broccoli is not the first food that comes to mind when craving a delicious smoothie.
The key is to balance out this sometimes bitter tasting vegetable with sweet fruit.
Broccoli is an excellent source of Vitamin C – a cup of this veggie packs in as much as is in a small orange.
Try this recipe out and sneak in some veggies for yourself and your family!
Ingredients
(Serves 1 – or cut the recipe in half for a kid's smoothie):
4 raw broccoli florets
4 frozen strawberries
1 frozen banana
1 cup unsweetened Almond milk
2 tbsp peanut butter
1 scoop unflavored whey powder (you can use hemp or pea protein powder instead if you are vegan)
Brocoli Smoothie Nutritional Info:
Calories 491
Fat 20 g (2 g saturated fat)
Carbohydrates 51 g
Fiber 10.5 g
Sugars 27.5 g
Protein 31 g
Vitamin C 191%/Vitamin A 64%/Calcium 66%/Iron 16%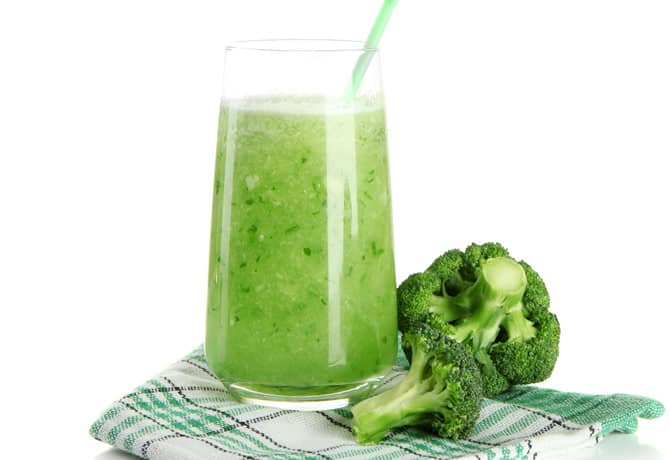 ENJOY!
We have more great snack recipes, here's one; Grab & Go Snacks for kids.


Do NOT use this Website for medical emergencies.
If you have a medical emergency, call a physician or qualified healthcare provider, or CALL 911 immediately. Under no circumstances should you attempt self-treatment based on anything you have seen or read on this Website. Always seek the advice of your physician or other licensed and qualified health provider in your jurisdiction concerning any questions you may have regarding any information obtained from this Website and any medical condition you believe may be relevant to you or to someone else. Never disregard professional medical advice or delay in seeking it because of something you have read on this Website.