Should Your Morning Skincare Routine Be Different from Night? Yes, Absolutely.
The way you treat your skin all throughout the day determines the clarity and radiance of your face. But there's a fine line difference between the morning and evening skin care due to the changing needs of skin from day to night.
The following post will explain in detail the skincare routine in morning and at night which you should follow for a flawless skin.
Why do we need a skin care routine in the morning?
Although you may feel you don't need any sort of clean-up for your skin in the morning, in reality you do. The morning skin has a lot of oil and bacteria accumulated during the night.
Moreover, your skin will be exposed to lot of environmental pollutants during the day which will lead to cell damage, excessive oil production, and affect your skin's collagen production. Thus, it is very important to use products that can prevent damage and keep it well toned!
 
Ideal skin care routine for morning:
You don't have to put in lot of efforts to make your skin look good when you wake up in the morning. A good cleanser and moisturizer will do the job.
Step 1: Use a good cleanser to remove the oil and the bacteria and make your skin look bright, smooth and healthy.
Step 2: Find a moisturizer/serum that suits your skin type. A hydrating serum with moisturizer is ideal for dry skin, whereas an oil-controlling moisturizer is best for oily skin.
Step 3: After you are done with cleansing and moisturizing, you need to put on a good quality broad spectrum sunscreen over your face and neck. This will guard your skin against UV rays, wrinkles, and hyper-pigmentation.
Step 4: Choose good quality makeup for a smooth and shiny skin. It's good to choose natural products for makeup to prevent allergy and irritation.
Step 5: A healthy breakfast can also add up to the natural and long-lasting glow of your face. Eating Vitamin A and E rich breakfast is a perfect choice for healthy morning skin.
Tip! Keep yourself hydrated by drinking at least 8 ounce-glasses in a day.
Why do we need a skin care routine at Night?
At night, the skin is free of any kind of environmental stress, thus it is the best time to repair damaged skin cells and control skin aging. You need to hydrate and provide nourishment to the skin so that the moisture levels are balanced in the skin.
You also need to boost its metabolism for slowing down the aging and improve overall health of the skin. Thus, you need few different products for a perfect skin care at night.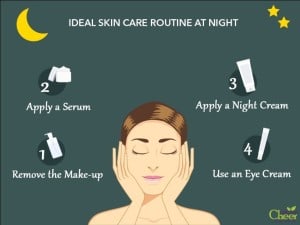 Ideal skin care routine at night:
Your skin needs a little more attention during the night, as this is the time when the skin renews itself. So, don't lose this chance to repair all worn tissues and remove dead skin cells.
Step 1: You need to first remove the make-up; use a make-up remover and then use a cleanser to unclog all the pores.
Step 2: Apply a serum or any facial oil that can work on skin issues, if any. You can use anti-aging serums, hydrating facial oils, or acne fighting creams to curb the effects of aging and sun.
Step 3: Apply a night cream instead of moisturizer to hydrate your skin during the night.
Step 4: Use an eye cream to nourish the delicate skin around the eye.
Tip! It's a good idea to complete your skin care routine between 7-8 PM before you get into sleep mode and go to bed with full make-up face.
Wendy Gillan is an author & skincare expert for Nature's Cheer – a proud dealer of Clear 60 Skincare Products. Clear 60 Skincare helps you get a healthy complexion in a very natural way with its wider range of natural skincare products. Wendy has written many articles in similar niche for her own blog.